Polish skier Andrzej Bargiel is on his way to Nepal for another 8,000m ski descent, this time down Everest without oxygen.
The Pole has previously skied K2, Broad Peak and Shishapangma (Central Summit). His ski descent of K2 was named ExWeb's number one expedition of 2018.
The talented extreme skier intends to climb and descend from summit to Base Camp without oxygen or taking his skis off, which would mark a step above previous efforts.
In 2000, Davo Karnicar was the first to ski from the summit of Everest to Base Camp via the South Col route, but he used oxygen. Four years earlier, the legendary Hans Kammerlander skied the North Side, but started from 300m below the summit.
Both of Bargiel's brothers will join the support crew: Gregorz for the ascent itself, and far below, Bartek will no doubt again exercise his drone-flying skills. Last year, he landed his drone on the summit of K2 and filmed his brother during his record-breaking descent.
Bargiel has hinted he will climb via a "normal route" and that the heavily crevassed Khumbu Icefall will be a major challenge on skis. So while final plans remain under wraps, it seems Bargiel will descend via the South Col route.
Other potential stumbling blocks could be the jet stream winds, which can polish the snow on the summit slopes to a hazardous glaze. Cooler temperatures in the post-monsoon season will increase the wind chill on his no doubt speedy descent.
Previous Links

Top 10 Expeditions of 2018: #1: Andrzej Bargiel Skis K2
Weekend Warm-Up: Andrzej Bargiel Skis K2
About the Author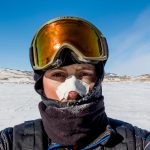 Ash Routen
Ash is an outdoor and adventure writer from the UK. He juggles a day job as a public health scientist with a second career in outdoor writing.

His words have featured in national newspapers, international magazines, and on various websites. Major bylines include Financial Times, Daily Telegraph, Porsche, Outside Magazine, Rock and Ice, and Red Bull.

He holds two degrees in Exercise and Health Sciences, and a PhD in Public Health.

His areas of expertise are polar expeditions, mountaineering, hiking, and adventure travel. In his spare time Ash enjoys going on small independent sledding expeditions, outdoor photography, and reading adventure literature.

Read more at www.ashrouten.com or follow Ash via @ashrouten on Twitter and Instagram.